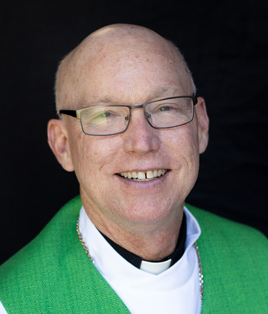 Rev. Dr. Mark Schumm
Pastor Schumm was ordained in 1998 and served congregations in Arizona and Wisconsin. He and his wife, Joan, joined the Prince of Peace family in 2020. Before entering full-time ministry, He worked as a process engineer in the food and specialty chemical industries. Pastor Schumm received a B.S. in Chemical Engineering from Purdue and Master of Divinity and Doctor of Ministry degrees from Concordia Seminary in Saint Louis.
Joan and Pastor Schumm have been married since 1983. They have a son and daughter-in-law and two grandchildren who live in Indianapolis, IN. Joan's dog, Emma, is certified as a therapy dog and enjoys visiting hospitals, schools, and nursing homes.
When not at church, Pastor Schumm enjoys reading and working in the garden or yard. He is also a home-brewer and enjoys making and sharing many different styles of lagers and ales.
When asked about serving at Prince of Peace Pastor Schumm responded,
It is a great privilege to share the gospel with people and help them to discover and appreciate God's love in Jesus Christ.